Essentials Orange
Sale price

$19.99

Regular price

$29.99
Interested in Bulk Order? Contact us
Interested in Bulk Order? Contact us
Trusted and Loved By
Frequently Asked Questions
Once you receive the product, there is a simple three steps activation that will guide you into creating your unique Profile. After that, you need to TAP it or SCAN your card into any device to easily share all your info in one place (No app required!)
You can add unlimited Social media profiles, youtube, professional networks, website, email, a virtual contact card, and much more! We add new options every week. The profile can be updated from any device, and the card will update the information automatically.
No, this is a one-time payment only.
No, all our products will work without installing any app.
Once you receive your card, the package will include a 3-step guide to activate and configure your card.
TapTok products are compatible with all Android and iOS phones. We use two methods to share the information without any application.
Method 1 (TAP): All iPhones models XR (+all future models) and around 90% of the Android phones (+all future models) are fully compatible and have NFC-enabled. Simply tap the card on the back of your phone.
Method 2 (SCAN): All Apple and Android phones updated with the latest software have a built-in QR code scanner and are fully compatible. Simply open up the camera and point at the QR-code.
Customer Reviews
Write a Review
Ask a Question
Filter Reviews:
card
TapTok
people
information
business cards
customers
info
times
idea
clients
11/18/2021
I recommend this product
Easy to use, great to have
Great. I love this card
Marc M.

United States
11/11/2021
I recommend this product
New User
This is the best way to share your information. Thanks
Alan L.

United States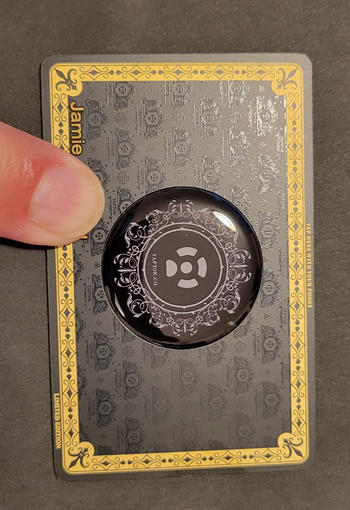 11/08/2021
I recommend this product
Metal Tap Tok Card is the best
So, one side is NFC and the other is a QR code. This is actually a Christmas present for a friend that is in the music industry. He had business cards made, but he either doesn't have one handy or the contacts loose them. Having the Tap Tok card is not only efficient and very professional, but as long as you have your Tap Tok card with you, no one will lose the info. Just pop out your phone and either have your new friends tap on the card or activate the camera and scan the QR code on the back. They will get a web site that gives them all available contact info that is on your card. I think that this is going to be a game changer for the business card industry.
Kim G.

United States
11/05/2021
I recommend this product
Greatest Purchase I Could Have Made
Working in fast paced environments and being bombarded by many potential partners at one time, the TapTok Card gives me a great opportunity to share my contact information with the people I meet in a quick way. The dashboard that is linked to the card is a great way of keeping up with engagement! My website visits have nearly doubled since using the card!
Zachary

United States
11/04/2021
I recommend this product
E business card
The tapping or eventual swiping on someone's phone does not work well. Overall it is great and just as easy to use the QR code on the back of the card. Guarantees you get into your prospect or clients cell phone so that when you call it feels like a warm call to them and if they ever need to reach you they don't have to look for a business card on the desk
Lawrence B.

United States
10/29/2021
I recommend this product
Great card!
Great Card! Nicely customized, but that takes quite a bit of time. (would suggest speeding up the process anyway you can). Set-up is a little glitchy and not as straightforward as it could be. Kris.
Kris K.

Canada
As Seen On