Trusted and Loved By
Frequently Asked Questions
Once you receive the product, there is a simple three steps activation that will guide you into creating your unique Profile. After that, you need to TAP it or SCAN your card into any device to easily share all your info in one place (No app required!)
You can add unlimited Social media profiles, youtube, professional networks, website, email, a virtual contact card, and much more! We add new options every week. The profile can be updated from any device, and the card will update the information automatically.
No, this is a one-time payment only.
No, all our products will work without installing any app.
Once you receive your card, the package will include a 3-step guide to activate and configure your card.
TapTok products are compatible with all Android and iOS phones. We use two methods to share the information without any application.
Method 1 (TAP): All iPhones models XR (+all future models) and around 90% of the Android phones (+all future models) are fully compatible and have NFC-enabled. Simply tap the card on the back of your phone.
Method 2 (SCAN): All Apple and Android phones updated with the latest software have a built-in QR code scanner and are fully compatible. Simply open up the camera and point at the QR-code.
Customer Reviews
Write a Review
Ask a Question
Filter Reviews:
card
platforms
things
ladies
connections
business cards
world
social media
breeze
quality
07/21/2021
I recommend this product
OK...should have thought about theme of dot before purchased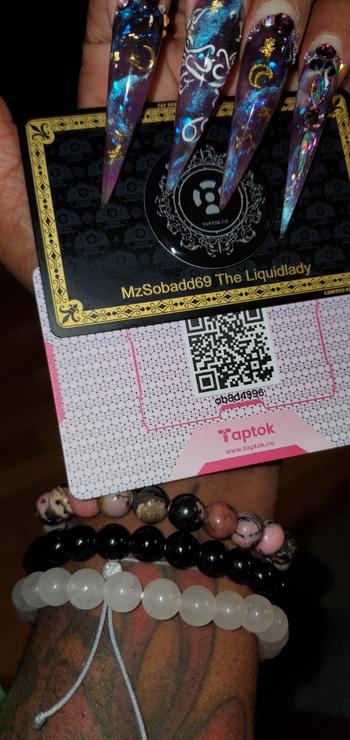 07/14/2021
I recommend this product
You fancy huh?
Amazing! I am an epic and eccentric entrepreneur so I love pushing ways to make my clients business partners and just about anyone I interact with say oh cool and this was the next cool thing it worked flawlessly across all platforms and with the cards dot with the nfc scanner and the qr it just went above and beyond
Tonnicka G.

United States
07/07/2021
I recommend this product
Easy to use
I always have my phone on me so the dot is much easier to share my contact info than pulling out my card
Geoff A.

United States
06/22/2021
I recommend this product
Taptok Dots
Work well .. apply easily .. look forward to more color/pattern choices and maybe custom choice?
Michael W.

United States
03/09/2021
I recommend this product
Very Exciting Product to Use
I was on the job site the other week and one of our subcontractors had one and it was so quick and easy to exchange contact information. After I seen his I immediately knew I needed one so I ordered it and got it in the same week. The dashboard for the profile and it is very user friendly. Amazing product.
Robert H.

United States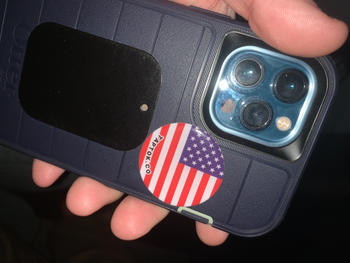 01/25/2021
I recommend this product
Love it
So far I have found this to be an amazing addition to my cards. Not a replacement but an addition for people who would like it digitally. There are a couple things I see in the works I hope work out as well. One issue I had was with the tiktok setup. They'll have to stay on top of the links for apps for sure.
Christopher J.

United States
As Seen On